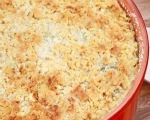 Prep: 15 min
Cook Time: 40 min
Total: 55 min
Serving: 4-6 servings
Turkey, stuffing, cranberry sauce and mashed potato casserole made with Hellmann's Real Mayonnaise. Perfect for Thanksgiving leftovers.
Also terrific with Hellmann's Light Mayonnaise.
Calories 680, Calories From Fat 350, Saturated Fat 9g, Trans Fat 0g, Total Fat 39g, Cholesterol 100g, Sodium 1330g, Total Carbohydrates 47g, Sugars 7g, Dietary Fiber 5g, Protein35g, Vitamin A 10%, Vitamin C 8%, Calcium 20%, Iron 15%
Ingredients
4 cups leftover prepared stuffing, divided
4 cups coarsely chopped leftover cooked turkey (about 1 pound)
3/4 cup Hellmann's® or Best Foods® Real Mayonnaise, divided
1/4 cup whole berry cranberry sauce
2 cups leftover mashed potatoes
1-1/2 cups shredded mozzarella cheese (about 6 oz.)
Directions
Preheat oven to 375 degrees Fahrenheit. Spray 8-inch baking dish with no-stick cooking spray. Spoon in 2 cups stuffing, then top with turkey.
Combine 1/4 cup Hellmann's® or Best Foods® Real Mayonnaise with cranberry sauce; evenly spread over turkey.
Combine remaining 1/2 cup Mayonnaise, potatoes and cheese in large bowl. Evenly spread on turkey, then top with remaining 2 cups stuffing.
Bake 40 minutes or until heated through. Let stand 10 minutes before serving. If desired, garnish with dried cranberries.