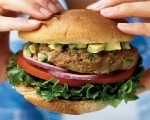 Prep: 10 min
Cook Time: 18 min
Total: 28 min
Serving: Serves 6 people
Not what you think of when you say "garden burger," but Turkey Burgers with Veggies is a healthier option to a red-meat burger.
Ingredients
1 pound lean ground turkey
1/2 cup shredded carrot
1/2 cup shredded zucchini
1/4 cup reduced-calorie/fat creamy cucumber dressing (plus 3 tablespoons, reserved)
2 green onions, sliced
1 garlic clove, minced
2 teaspoons fresh oregano or basil
1/8 teaspoon salt
1/8 teaspoon pepper
3/4 cup quick-cooking rolled oats
Nonstick cooking spray
Sliced tomatoes, avocados and onions, and lettuce leaves to top burgers
6 toasted sandwich buns
Directions
Using a small mixing bowl, combine the carrot, zucchini, 1/4 cup of dressing, green onions, garlic, oregano or basil, salt and pepper. Stir in the oats. Add the ground turkey and mix everything together well. Shape the mixture into 3/4-inch-thick patties.
Prior to heating your grill, spray the grate with nonstick cooking spray. Heat the grill to medium-high. Grill, uncovered, for about 15-18 minutes, turning once. Spread the reserved dressing on one side of each toasted bun. Serve with your favorite toppings.