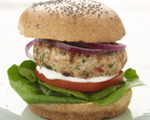 Prep: 15 min
Cook Time: 12 min
Total: 27 min
Serving: 4 People
Ingredients
1 pound extra lean ground turkey breast (99% lean)
1 garlic clove, minced
1/2 cup (4-ounce) Plain 0% Chobani Greek Yogurt
1/2 teaspoon salt
1/4 teaspoon fresh black pepper
1 tablespoon dry mustard
1 tablespoon Worcestershire sauce
1/2 cup red bell pepper, diced
1/2 cup fresh parsley, chopped
4 Whole wheat buns
Lettuce, tomato, onion
Vegetable oil cooking spray
Chobani-Horseradish Sauce
Directions
Heat grill pan over medium-high heat.
Mix all ingredients in a bowl (except lettuce, tomato and onion) and spray with vegetable oil cooking spray.
Shape into 4 patties.
Grill burgers on each side for about 6 minutes or when top feels firm to press.
Serve on buns with lettuce, tomato, onion, and sauce.