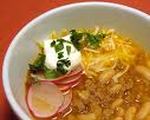 Prep: –
Cook Time: –
Total: –
Serving: Makes 6 to 8 servings
Try this delicious tailgating recipe that make plain old burgers and wings seem passé.
Ingredients
1 white onion, chopped
3 garlic cloves, minced
1 1/2 pounds ground turkey
8-ounces canned, sliced green chilis
2 teaspoons ground coriander
2 teaspoons dried oregano
1/4 teaspoon ground cloves
1/4 teaspoon cayenne pepper
Salt and white pepper to taste
1 pound large white beans, soaked overnight
6 cups chicken broth
2 cups shredded Colby Jack cheese
Directions
Sauté onion, garlic, and turkey in a large pot for 8 to 10 minutes, or until turkey is just browned. Add the peppers, coriander, oregano, cloves, cayenne, salt, and pepper and stir about 5 minutes.
Add 3/4 of beans and broth; purée the remaining beans in a blender and add to the pot. Bring chili to a gentle simmer and cook for 10 to 15 minutes, or until turkey is cooked through.
Garnish with cheese when ready to serve.