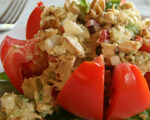 Prep: 15 min
Cook Time: –
Total: 15 min
Serving: Makes 3 stuffed tomatoes
This recipe for Tuna-Stuffed Tomatoes creates a gorgeous presentation making it the perfect salad starter to serve while entertaining.
Ingredients
3 fresh ripe tomatoes, stem-ends removed
1 (6-ounce) can white albacore tuna, packed in water
1/4 cup chopped sweet red pepper
3/4 cup chopped onion
1/4 cup mayonnaise
1 tablespoon jalapeno mustard
1/2 of a ripe avocado, chopped
chopped toasted walnuts, to taste
Fresh basil to garnish
Directions
Using a sharp knife, cut into the tomato, but not all the way through to the bottom, to form 8 wedges. Place the tomato onto a bed of fresh basil and set aside.
Drain the tuna and then place into a bowl with the red pepper, onion, mayonnaise and jalapeno mustard, and then mix well to combine. Add the avocado, gently mix again to combine and then spoon the mixture into the prepared tomatoes. Sprinkle each stuffed tomato with the toasted walnuts and serve.