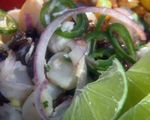 Prep: 10 min
Cook Time: –
Total: 10 min
Serving: 4
You'll love this tuna mixture on top of a bed of lettuce or in a sandwich.
Ingredients
1/2 cup freshly squeezed lemon juice
1/4 cup extra virgin olive oil
1 teaspoon dried shrimp (optional)
1/2 teaspoon minced garlic
1 teaspoon kosher salt
1/2 teaspoon. fresh ground black pepper
1 pound sushi-grade tuna
2 tablespoons toasted pumpkin seeds
1 medium orange, segmented & seeded
1/2 large grapefruit segemented & seeded
2 tablespoons chopped cilantro
2 tablespoons chopped chives
Directions
In a blender puree together the lemon juice, oil, dried shrimp (optional), garlic, salt and pepper. Spoon this seasoning mixture on to the tuna in a bowl. Toss together and add the pumpkin seeds, tangelo, cilantro and chive.
Cover and refrigerate for at least 1 hour.