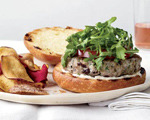 Prep: 15 min
Cook Time: 6 min
Total: 21 min
Serving: 4 Servings
These Tuna Nicoise Burgers are certainly a delicious variation to the classic beef burger. Slather with a blend of mayonnaise and anchovy paste, and then top with some peppery arugula and tomato slices for a fabulous new dish.
Ingredients
1-1/4 pounds fresh tuna, diced
2 scallions, thinly sliced
12 pitted Kalamata olives, coarsely chopped
1 tablespoon salted capers, rinsed and minced
Salt and freshly ground pepper
Extra-virgin olive oil, for brushing
1/4 cup mayonnaise
1-1/2 teaspoons anchovy paste
4 brioche buns, split and toasted
Directions
Place the tuna, scallions, olives and capers onto a baking sheet and then place in the freezer for 8 minutes to chill.
Remove the ingredients from the freezer and transfer to a food processor. Process the mixture until finely chopped and then place in a bowl with a few pinches of salt and pepper. Mix the mixture well and then shape into 4 patties.
Prepare your grill on medium-high heat.
In the meantime, put the mayonnaise and anchovy paste into a small bowl and mix vigorously until thoroughly blended.
Place the tuna patties onto the grill, brush with olive oil and then cook for 3 minutes on each side. Transfer to the brioche buns, slather with the mayonnaise mixture, and then top with your favorite toppings; serve immediately.