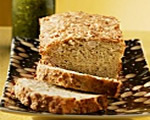 Prep: 15 min
Cook Time: 45 min
Total: 1 hr
Serving: 6
A basic tuna loaf with a little hot taste.
Ingredients
1 egg
3/4 cup evaporated milk
2 cups soft bread crumbs
1/2 teaspoon salt
1/2 teaspoon dry mustard
1/2 teaspoon hot pepper sauce
3 cans tuna
Directions
Combine egg, milk, bread crumbs and seasoning in a large mixing bowl.
Beat until weel blended.
Mix in tuna.
Turn into a heavy duty aluminum foil lined loaf pan.
Bake at 350 degrees F for 45 minutes.
Lift out of pan.
Remove foil.