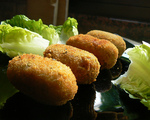 Prep: –
Cook Time: –
Total: –
Serving: 4 servings
Ingredients
Cucumber dill sauce: 2 Tablespoons mayonnaise
2 Tablespoons plain yogurt (low or no-fat is okay)
1/4 cup cucumber, peeled and chopped
1 medium green onion, chopped
1/8 tsp. dried dillweed
Croquettes: 1 12 oz. can tuna in water, drained
2 eggs, beaten
1 medium carrot, peeled and grated
1/4 cup bread or cracker crumbs
1 large green onion, sliced
2 Tablespoons fresh parsley, chopped
1/8 teaspoon pepper
2 Tablespoon vegetable oil
Directions
To make cucumber-dill sauce: Stir mayonnaise and yogurt together until smooth. Stir in cucumber, green onion, and dillweed. Set aside.
To make croquettes: In medium bowl mix tuna, eggs, carrot, crumbs, green onion, parsley, and pepper. Divide mixture into fourths, and shape into patties.
In large nonstick skillet, heat oil on medium setting. Cook tuna patties 4 to 5 minutes on each side until cooked through. Top with Cucumber-Dill sauce.
Serving Suggestions: Serve patties on lettuce leaves. Serve with hamburger buns and all the trimmings. Serve in pita bread with tomato slices.