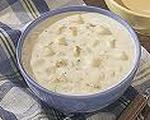 Prep: 10 min
Cook Time: 30 min
Total: 40 min
Serving: 4
This unique and hearty Tuna Chowder is sure to warm up any soup lover.
Ingredients
4 ounces elbow macaroni
1 large onion, thinly sliced
2 cups milk
2 tablespoon vegetable shortening
2 teaspoons salt
1/8 teaspoon black pepper
1, 7 ounce can of water packed tuna, drained and flaked
1 cup hot water
1 small package frozen peas
For thickening the soup: 1/4 cup flour to 1 cup water
Directions
Cook macaroni for 10 minutes in boiling salted water. Drain.
Saute onion in vegetable shortening until tender and translucent.
Add hot water, salt and pepper. Simmer gently for 10 minutes.
Stir in macaroni, peas, tuna and milk.
In a separate bowl, mix flour and water making sure there are no lumps. Pour thickening mixture into pot and stir.
Cook until slightly thickened, about 5 minutes.
Ladle soup in individual bowls. Sprinkle with paprika.