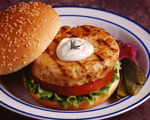 Prep: 15 min
Cook Time: –
Total: 15 min
Serving: 4
Heart-healthy fish fantastically replaces the standard ground chuck. Flip your tuna burger onto a wholegrain or sprouted-grain bun and top with gourmet greens or spicy alfalfa sprouts.
Ingredients
1 ¼ pounds of high-quality tuna steaks
1 large clove garlic, minced
1 tablespoon minced fresh ginger
1 jalapeno, seeded, minced
½ teaspoon cumin
¼ teaspoon coriander
¼ teaspoon salt
½ teaspoon white pepper
Directions
Cut tuna into ¼ inch pieces.
Then using a rocking motion with a knife, continue to chop tuna until it looks coarsely ground.
In a large mixing bowl, combine the tuna and remaining ingredients.
Divide the mixture into 4 equal portions (about 5 ounces each).
Use your hands to press into 1 inch thick patties. Transfer to a parchment-lined baking sheet and place in the refrigerator for 15 to 20 minutes.
Meanwhile, heat the grill to medium-high to high temperatures.
Take a chance grilling directly on the rack or employ a grill grid to protect the delicate nature of the patties.
Place grill grid on top of grill rack and lightly grease with vegetable oil.
Grill tuna burgers until well browned on the first side, about 3 minutes.
Flip grid or, using a lightly greased spatula, the patties and continue to grill until desired doneness, only about 2 minutes to 3 minutes.