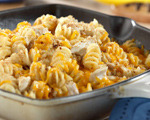 Prep: 10 min
Cook Time: 15 min
Total: 25 min
Serving: 4 Servings
This kids' favorite meal combines tuna with a classic macaroni and cheese combination for a fast and delicious weeknight dinner. For the adults, enjoy this dish with a glass of American Sauvignon Blanc.
Ingredients
1 can (10-1/2 ounces) condensed chicken broth
1 soup can water
3 cup uncooked corkscrew-shaped pasta (rotini)
1 can (10 3/4 ounces) condensed cream of mushroom soup
1 cup milk
1 can (about 6 ounces) tuna, drained and flaked
1 cup shredded cheddar cheese (about 4 ounces)
2 tablespoon Italian-seasoned dry bread crumbs
2 teaspoon butter, melted
Directions
Place the chicken broth and the water into a large sauté pan over medium-high heat and bring to a boil. Once boiling, add the pasta and cook over medium heat until 'al dente.'
In the meantime, place the breadcrumbs and the butter into a small bowl and mix well to combine.
When the pasta is done cooking, leave the pasta cooking liquid in the pan and then stir in the soup, milk, tuna and cheese. Cook the mixture until the cheese is melted and then sprinkle with the breadcrumbs. Serve immediately.