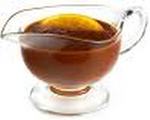 Prep: 15 min
Cook Time: 30 min
Total: 45 min
Serving:
Slather Tulsa Barbeque Sauce on thick meaty beef ribs.
Ingredients
2 tablespoons butter
1 cup onion, chopped
1, 16 ounce can tomato sauce
1 cup cider vinegar
1 cup V-8 juice
1/2 cup prune juice
1 tablespoon grated lemon peel
3 tablespoons lemon juice
1 bay leaf
1/2 teaspoon honey
1/4 teaspoon cayenne pepper
1 clove garlic finely chopped
Directions
Prepare sauce by melting the butter in a large saucepan over medium heat. Stir in onion and cook for 2 minutes. Add the garlic and cook for 1 minute longer. Add the tomato juice, vinegar, V-8 juice, prune juice, lemon peel, lemon juice, bay leaf, cayenne and honey.
Bring to a boil and lower the heat. Simmer until the sauce has thickened, about 30 minutes. Bast ribs with sauce.