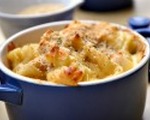 Prep: 20 min
Cook Time: 25 min
Total: 45 min
Serving: 4 People
Looking for a decadent, creamy, wow your rich friends kind of side dish? Look no further than this amazing truffle mushroom macaroni and cheese. Each bite is perfectly balanced with creamy cheese, crunchy breadcrumbs, soft caramelized mushrooms and an earthy tone from the truffle oil. The key to not overpowering this dish is to use only a small amount of the truffle oil.
Ingredients
1 cup cremini mushrooms, chopped
1 medium onion, chopped
1/3 cup flour
2 tablespoons butter
12 ounces rotini or elbow noodles
1 cup light cream
2 cups skim milk
2 tablespoons white truffle oil
1 cup Gruyere cheese, shredded
1/2 cup shredded mozzarella, part skim
1/2 cup shredded cheddar, part skim
1/4 cup breadcrumbs
1 teaspoon sea salt
1/2 teaspoon black pepper
1 teaspoon parsley
Directions
Preheat oven to 375 degrees F. In a large pot, boil water. Add pasta and cook until al-dente, about eight minutes. Remove from heat, drain and set aside.
In a large, deep skillet, melt butter. Reduce heat and add flour and whisk for about two minutes. Add onions and mushrooms and cook another two minutes, whisking continuously. Add milk and cream. Raise temperate to a medium-high heat and cook until mixture is boiling and thickened, about five to seven minutes.
Once mixture has thickened, remove from heat and stir in cheese, truffle oil, salt and pepper. Add additional salt and pepper to taste. Stir in noodles.
Spray a large baking dish with nonstick cooking spray. Pour mixture into the dish. Sprinkle with breadcrumbs, parsley and additional cheese (optional).
Bake macaroni for 15 minutes. Then, turn the oven to broil and broil an additional three to five minutes to brown the breadcrumbs.