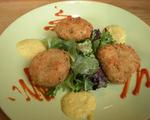 Prep: 20 min
Cook Time: –
Total: 20 min
Serving:
Crab cakes can be used on sandwiches or by themselves as a main course
Ingredients
1 lb. crab meat
1 egg
1 slice bread (crumbled)
1 tbsp. mayonnaise
1 tbsp. mustard
1 tsp. baking powder
1 tbsp. milk
1/2 tsp. parsley
1 tbsp. old bay seasoning,
1 tsp. Worcestershire sauce
Directions
Crumble bread in crab meat, beat egg, mustard, mayonnaise and milk. Add baking powder and seasoning. Beat. Add to crab meat, mix well and make into cakes.
Fry in butter until golden brown. Serve on a bun or by themselves with vegetables.