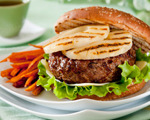 Prep: –
Cook Time: –
Total: –
Serving: 6 People
Is a trip to Hawaii not in your near future? Bring Hawaii to your backyard and host a Luau Night by serving up these tasty tropical island luau burgers with piña colada sauce. There is a balance of sweet and heat that will have your hips swaying to the music and ready to go low on the limbo!
Ingredients
1 to 1-1/2 pounds ground turkey
1 pound ground pork or an egg (ground turkey crumbles easily, so it needs some fat. You can either mix in ground pork or a well beaten egg to the mixture to prevent the burger from crumbling and getting too dry)
1 can sliced pineapple in its juice/syrup
1/2 small white onion, finely diced
2 tablespoons Jerk seasoning 
1/4 teaspoon salt
1/4 teaspoon black pepper
1-1/2 tablespoons plus 1 tablespoon teriyaki sauce
2 tablespoons extra virgin olive oil
1 cup vanilla yogurt (plain may be substituted)
1 teaspoon cream of coconut
1 pineapple slice, finely chopped
1 teaspoon pineapple juice
Dash of rum (optional)
Hamburger buns
Directions
In a small bowl, combine the pineapple slices and 1 tablespoon of the teriyaki sauce. Take two slices of the pineapple and chop.
Make the piña colada sauce by stirring together the yogurt, cream of coconut, one pineapple slice, 1 teaspoon of pineapple juice and a dash of the rum. Set it aside.
In a large bowl, combine the ground turkey, ground pork, chopped pineapple, onion, Jerk seasoning, salt, pepper and the teriyaki sauce.
Gently combine all of the ingredients and pat out to make burgers, about 6 to 8 regular-sized burgers (or you can make into fun, bite-sized sliders).
Drizzle the extra virgin olive oil over each burger, and place them on a hot grill pan.
Cook for 2 minutes on each side, then reduce the heat to medium-low and cook the burgers 7 to 8 minutes longer, turning occasionally. (No more than twice.) Do not press down on burgers, you want the juices to remain inside. 
Transfer to a plate and let the burgers rest for 2 minutes before serving.
Spread the piña colada sauce on the buns. Place the burgers on the buns and serve with any garnishments of your choice.