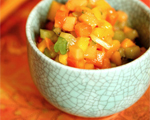 Prep: 30 min
Cook Time: –
Total: 30 min
Serving: 4 Servings
Looking for a salsa with some zip which can be used as a condiment for grilled chicken, pork, fish or shellfish? Try this wonderful mix of fruits and add a 'kick' of flavor to your boring protein.
Ingredients
1 tablespoon chopped fresh cilantro
1/2 tablespoon fresh lime juice
1/2 tablespoon white wine vinegar
1 teaspoon minced jalapeno pepper
1/2 teaspoon olive oil
1/8 teaspoon salt
Freshly ground pepper
1/2 medium mango, cut into small cubes (about 3/4 cup)
1/4 small papaya, cut into small cubes (about 1/2 cup)
1/3 cup chopped red onion
1/4 cup pineapple cubes
1/2 small red bell pepper, chopped
Directions
In a medium bowl, mix the cilantro, lime juice, vinegar, jalapeno, oil, salt and pepper. Add the mango, papaya, onion, pineapple and bell pepper and toss well to thoroughly combine.
Let the salsa stand at least an hour at room temperature so the flavors mix together. Serve at room temperature, do not chill.