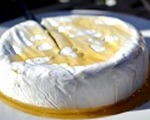 Prep: 10 min
Cook Time: 30 min
Total: 40 min
Serving: 12 People
This decadently creamy, sinfully delicious triple creme brie, drizzled with honey, is the perfect appetizer for any occasion. Serve warm right out of the oven with drizzled honey and this brie is a perfect pairing with crisp white wines and salty crackers.
Ingredients
1 (12-ounce) wheel triple creme brie
2 flakey pie crusts
2 tablespoons honey
Directions
Preheat oven to 350 degrees F. Take brie out of wrapper. Carefully unwrap the pie crust and place in a small tart pan, forming the crust to the edges.
Place brie in pie crust. Drizzle honey over the top of the cheese. Take the second pie crust and place it over the brie, pinching the top crust to the bottom so the entire wheel of cheese is covered.
Make a few slits in the top of the crust and bake for 25-30 minutes, or until crust is browned. Serve immediately with crackers or fruit.