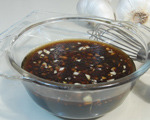 Prep: 5 min
Cook Time: –
Total: 5 min
Serving: Makes enough marinade for 5 pounds of meat
The tri-trip is a relatively inexpensive, versatile and tender cut of beef from the bottom half of the sirloin. Cook it to medium-doneness at the very most as anything more will render it extremely tough.
Ingredients
1 cup soy sauce or tamari
1/2 cup sesame oil
1/4 cup chopped green onions (about 3, both white and green parts)
1/4 cup sugar
6 cloves garlic, minced
2 teaspoon sesame seeds, toasted
1/2 teaspoon dry mustard
1/2 teaspoon ground pepper
1/2 teaspoon white vinegar
Directions
Place all of the ingredients into a bowl and whisk vigorously until the mixture is thoroughly blended.
Pour the mixture over the meat, flip to coat and then place in the refrigerator, covered, to marinate overnight.
Either discard the marinade or place in a saucepan to boil until reduced by half, and then serve as a side sauce with the meat.