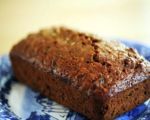 Prep: 15 min
Cook Time: 1 hr
Total: 1 hr 15 min
Serving: Makes 2 loaves
Take a step back into your grandma's kitchen with delicious Traditional Zucchini Bread. Versatile enough to serve as dessert, with breakfast or at a springtime celebration.
Ingredients
3 cups grated zucchini
1 cup vegetable oil
1-1/2 cups sugar
3 eggs
3 teaspoons vanilla
3 cups all-purpose flour
1-1/2 teaspoons baking powder
1 teaspoon baking soda
3 teaspoons ground cinnamon
1 teaspoon salt
1/2 teaspoon ground, dried ginger
1 cup of chopped walnuts (optional)
1 cup raisins
1 cup chocolate chips
2 tablespoons grated lemon zest (2 lemons)
Directions
Preheat oven to 350 degrees F. In a large bowl, combine the oil, sugar, eggs and vanilla. Mix until combined.
In a separate large bowl, combine the flour, baking powder, baking soda, cinnamon, salt and ginger. Sift together so all is combined.
Slowly, a little at a time, add the flour mixture to the egg mixture. Combine well.
In another bowl combine the walnuts, raisins, chips, lemon zest and zucchini, a little at a time. Add the zucchini mixture to the main mixture, a little at a time until all is combined well.
Divide the batter and pour into 2 loaf tins. Smooth out the batter so it's evenly spread across the tin. Bake for about an hour, or until a knife stuck into the middle of the bread comes out clean.