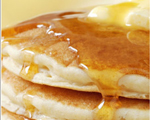 Prep: 10 min
Cook Time: 4 min
Total: 14 min
Serving: Makes 8, 3-inch pancakes
There is such a difference in taste when pancakes are made from scratch. This family favorite can easily be doubled if you are serving a large crowd.
Ingredients
1 cup unbleached all-purpose flour
2 teaspoons granulated sugar
1/2 teaspoon table salt
1/2 teaspoon baking powder
1/4 teaspoon baking soda
3/4 cup buttermilk
1/4 cup milk
1 large egg, separated
2 tablespoons unsalted butter, melted
vegetable oil or butter (for brushing griddle)
Directions
In a medium-sized bowl, mix the flour, sugar, salt, baking powder and baking soda with a wire whisk.
In a separate bowl, add the buttermilk and milk, and mix to combine.
In a small cup, combine the egg yolk with the melted butter and then pour into the buttermilk mixture, stirring to well.
Pour the buttermilk mixture into the flour mixture and stir until just combined. Do not over mix.
Heat a large skillet over medium heat and brush the bottom of the pan with some oil or butter.
Pour about 1/4 cup batter into the skillet per pancake, making about 2 or 3 pancakes at a time. When small bubbles start to form on the top of a pancakes and the bottom begins to lightly brown, flip and cook for an additional 1-1/2 minutes. If pancakes start to stick, add more butter or oil to the pan.
Place cooked pancakes on a plate and top with a pat of butter and a drizzle of maple syrup. Serve immediately.