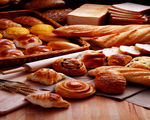 Prep: 3 hr
Cook Time: 20 min
Total: 3 hr 20 min
Serving: 24
The light, mouthwatering texture and taste of an old family favorite.
Ingredients
1 envelope active dry yeast
1/4 cup hot water
1/3 cup sugar
1/4 cup butter
1 teaspoon salt
1 cup scalding hot milk
1 egg, lightly beaten
4-1/2 cup sifted flour
2 tablespoons melted butter
Directions
Sprinkle yeast over hot water in large bowl. Stir until dissolved; add butter and stir until melted. Cool mixture to approximately 115F.
Add milk mixture to yeast; beat in egg, then 4 cups of flour, 1 cup at a time until soft dough forms.
Knead dough lightly for 5 minutes, adding remaining flour.
Place dough in buttered bowl, then flip dough so buttered side is up. Cover and let rise in warm place until double, about 1-1/2 hours.
Punch dough down and fold over to knead, using as little flour as possible for flouring hands so dough stays light.
Pinch off small chunks and shape into rolls about 1-1/2" to 1-3/4" in diameter. Line up in rows closely but not touching in well-greased 12' x 9" pan.
Cover rolls and let rise in warm place until double, 30 to 40 minutes.
Brush tops with melted butter. Bake at 375F for 18 to 20 minutes or until lightly browned.