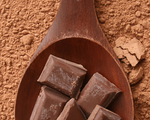 Prep: –
Cook Time: –
Total: –
Serving: Makes 4 servings
Chocolate is most commonly used for the sweeter side of cooking and baking, but did you know there is a savory side of chocolate as well? Chocolate and cocoa powder have been used for years as a savory component of sauces and marinades, most popularly in Mexican recipes. Creative chefs today are incorporating cocoa powder and chocolate into remarkable main course meals. Adding chocolate to a dish adds a rich depth of flavor and a great contrast of sweet and savory.

Ingredients
Cayenne pepper to taste
Freshly ground black pepper
1-1/2 pounds chicken, cubed or cut into strips
4 tablespoons olive oil, divided
2 tablespoons mild chili powder
2 teaspoons ground cumin
1 teaspoon ground cinnamon
1-1/2 ounces unsweetened chocolate
4 (14.5 ounce) cans stewed tomatoes
Directions
In a bowl, combine equal parts cayenne and black pepper to taste. Add chicken and toss gently to coat. Heat 2 tablespoons olive oil in a large pot and add chicken. Cook 4 to 5 minutes, or until just cooked through. Remove chicken with a slotted spoon and set aside.
Meanwhile, combine chili powder with cumin, cinnamon and more cayenne and black pepper as desired. Heat 2 tablespoons of olive oil in the same pot and add chili powder mix. Stir with a spoon and heat over medium heat until blackened, about 6 to 8 minutes.
Reduce heat to low, stir in chocolate, and continue stirring until melted. When chocolate is fully melted, add stewed tomatoes and bring to a boil. Cook for 10 minutes, stirring often. Add chicken and continue cooking until heated through, about 5 minutes. Serve warm.