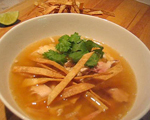 Prep: 10 min
Cook Time: 35 min
Total: 45 min
Serving: 6 Servings
Enjoy a steaming bowl of this spicy soup, chock full of chicken and posole (hominy) and topped with crunchy tortilla and melted cheese.
Ingredients
2 medium onions, sliced thin
4 large garlic cloves, finely chopped
2 cups plus 2 tablespoons vegetable oil
2 teaspoons ground cumin
10 cups low sodium chicken stock or broth (2 1/2 quarts)
1/4 teaspoon cayenne, or to taste
4 cups skinless boneless rotisserie chicken pieces
3 cups rinsed and drained canned posole (two 15.5 oz cans)
12 (5-inch) corn tortillas, cut into 1/4-inch wide strips
1/2 pound Muenster cheese, coarsely grated
Directions
Place the vegetable oil in a large soup pot over medium heat, and sauté the onion and garlic for 8 minutes.
Sprinkle in the cumin and cook for 1 minute before adding the chicken stock and cayenne and bringing the mixture to a boil.
Once boiling, reduce the heat to medium-low and simmer for 5 minutes.
Season the soup with some salt and pepper to taste, and then stir in the chicken and the posole. Simmer for an additional 5 minutes.
In the meantime, place 2 cups of oil in medium-sized frying pan and heat over medium-high heat. Once the oil is hot, add the tortilla strips and fry in batches for about 2 minutes each. Transfer to paper towels to drain.
Ladle the soup into bowls and garnish with the tortilla strips and cheese.