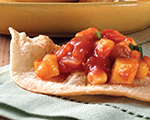 Prep: 15 min
Cook Time: 8 min
Total: 23 min
Serving: 3 cups salsa
Toasting the tortilla makes it a crispy chip that can be used to scoop up the sweet and savory mango salsa.
Ingredients
8 (6-inch) flour tortillas
3 tablespoons butter, melted
2 teaspoons garlic salt
2 teaspoons dried parsley
1 (16-ounce) jar thick and chunky salsa
1 medium (1 cup) mango, peeled, cut into 1/2-inch cubes
1 (8.75-ounce) can whole kernel corn, well-drained
1/4 cup chopped green onions
Directions
Preheat the oven to 375.
Thoroughly brush both sides of the tortillas with the butter, and then sprinkle with the garlic salt and parsley.
Put the tortillas on 2 large baking sheets, and cook for 8 minutes, rotating the baking sheets after 4 minute of cooking.
In the meantime, combine the salsa, mango, corn and green onion in a small bowl, and mix to blend.
Remove the tortillas and break into 4 pieces. Serve with the mango salsa.