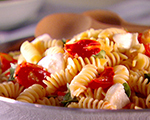 Prep: 18 min
Cook Time: –
Total: 18 min
Serving: Makes about 4-1/2 cups
This robust and raw sauce epitomizes the authentic flavors of the Mediterranean. Serve over fresh pasta and enjoy with a glass of merlot for the perfect meal.
Ingredients
1-1/2 pounds plum tomatoes, chopped
1/3 cup diced fresh part-skim mozzarella
2 tablespoons chopped Greek Kalamata olives
2 tablespoons red-wine vinegar
2 tablespoons extra-virgin olive oil
1 clove garlic, minced
2 teaspoons chopped fresh basil
2 teaspoons chopped fresh marjoram
1/4 teaspoon salt
Freshly ground pepper to taste
Directions
In a large bowl, mix together the tomatoes, mozzarella, olives, vinegar, oil and garlic.
Sprinkle in the basil, marjoram, salt and pepper and toss to combine.
Cover the bowl and allow the tomato mixture to sit, at room temperature, for 15 minutes until the flavors infuse.