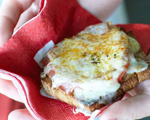 Prep: 15 min
Cook Time: –
Total: 15 min
Serving: 4 Servings
These delicious sandwiches are a heavenly blend of sweet tomatoes, salty prosciutto and creamy gruyere cheese. A perfect snack to nibble on while enjoying a glass of Sauvignon Blanc.
Ingredients
4 1-inch-thick slices of white bread
2 tablespoons extra-virgin olive oil
1 clove garlic, sut in half
1 teaspoon dry white wine
2 ounces thinly sliced prosciutto
1 beefsteak tomato, peeled and thinly sliced
Sea salt
1/2 pound Gruyère cheese, thinly sliced
Freshly ground pepper
Sweet paprika
Directions
Preheat your oven to 400 degrees.
Put the bread on a baking sheet, brush both sides with olive oil and then place in the oven for about 12 minutes to toast, turning once halfway through the cooking time.
Remove the bread from the oven and prepare the oven broiler.
Rub each slice with the cut side of a piece of garlic and then sprinkle with the wine. Top with the prosciutto, tomato, a sprinkle of sea salt and then the cheese.
Place the slices under the broiler for 3 minutes and then remove and sprinkle with fresh black pepper and paprika before serving.