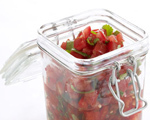 Prep: 10 min
Cook Time: –
Total: 10 min
Serving: Makes about 2 cups
Serrano chiles are small hot green chiles that turn red, then yellow as they age. They have a sudden intense fiery bite and a pleasantly high acidity.
Ingredients
1-1/4 pounds plum tomatoes, diced
1/3 cup red onion, chopped
3-1/2 tablespoons freshly squeezed lime juice
2 serrano chiles, coarsely chopped
1 teaspoon sea salt
2 pinches of freshly ground black pepper
1 cup (loosely packed) coarsely chopped fresh cilantro
Directions
Place about 1/4 of the diced tomatoes into a blender along with the onion, lime juice, chiles, salt, and pepper. Process the mixture until smooth and then add the cilantro. Pulse about 4 times until just combined.
Put the cilantro mixture with the remaining diced tomatoes in a bowl and mix well to blend. Add additional salt and pepper to taste and the serve.