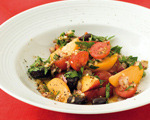 Prep: 1 hr 10 min
Cook Time: –
Total: 1 hr 10 min
Serving: 4 Servings
A delightful and aromatic combination of tomatoes, olives, jalapeno, peaches and parsley brings a myriad of flavors into play including sweet, savory, juicy, spicy and fresh.
Ingredients
4 ripe peaches
2 tomatoes, finely diced
1 red pepper, chopped
3 ounces black olives, roughly chopped
1/2 jalapeño chilli, deseeded and finely chopped
2 tablespoons cilantro, chopped
3 tablespoons flat leaf parsley, roughly chopped
Juice of 1 lime
Sea salt and freshly ground black pepper, to taste
Directions
Place all of the ingredients into a bowl and toss well to combine. Season the salsa to taste with salt and pepper and then cover the bowl and set aside for 1 hour to allow flavors to meld.