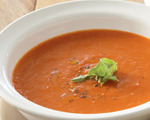 Prep: 10 min
Cook Time: 28 min
Total: 38 min
Serving: 4 Servings
The earthy taste of fresh mushrooms is combined with an aromatic tomato and wine mixture to create this satisfying and flavorful soup dish.
Ingredients
1 medium onion, thinly sliced
1 clove garlic, minced
1 tablespoon butter or margarine
1 tablespoon oil
4 cups sliced fresh mushrooms
1-1/2 cups beef broth
1 cup water
1/4 cup red wine
1/4 cup tomato paste
salt and freshly ground pepper
1/4 cup freshly grated parmesan
2 tablespoons chopped parsley
Directions
Place the butter into a saucepan over medium heat. Once melted, add the onion and the garlic and sauté for 4 minutes.
Add the mushrooms to the pan and cook the mixture for 2 additional minutes before pouring in the broth, water, red wine and tomato paste. Simmer the mixture for 20 minutes and then season to taste with salt and pepper.
Ladle the soup into bowls and serve topped with the freshly grated Parmesan and the parsley.