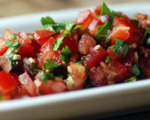 Prep: 12 hr 10 min
Cook Time: –
Total: 12 hr 10 min
Serving: 4 Servings
This tomato and ginger relish recipe calls for ponzu, a citrus-based sauce made with rice wine and vinegar with a slightly tart flavor and light yellow color. It is commonly used in Japanese cooking and frequently blended with soy sauce.
Ingredients
3 large tomatoes, peeled, seeded & diced
juice of 1 lime
2 tablespoons ginger, peeled & finely chopped
2 tablespoons red onion, chopped
1 tablespoon ponzu
1/4 cup cilantro, gently chopped
1/4 cup basil, gently chopped
1/4 cup mint, gently chopped
salt & white pepper for seasoning
Directions
Place the tomatoes and the ginger into a bowl and toss to combine. Add the lime juice, red onion and the ponzu, and stir well until the ingredients are mixed.
Add the cilantro, basil and mint to the bowl, along with a few pinches of salt and pepper, toss to combine and then cover and refrigerate overnight to allow the flavors to blend.