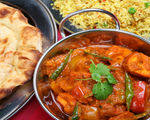 Prep: 20 min
Cook Time: 30 min
Total: 50 min
Serving: 6
This is a great sauce to use when cooking fish. Add it to your favorite fish dish.
Ingredients
1 can tomato paste
3/4 cup water
1 onion
1 apple
1 clove garlic
1 bay leaf
1 tteaspoon curry powder
2 tablespoons butter
2 teaspoons salt
1/2 teaspoon ground ginger
Directions
Heat tomato paste and water in a pan.
Chop the onion and apple.
Crush the garlic and bay leaf.
Add the onion, apple, garlic and bay leaf to the paste.
Mix well.
Add remaining ingredients to sauce.
Mix well.
Simmer for 20 minutes.
Strain the sauce into a bowl.
Yields 1 1/4 cups.