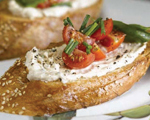 Prep: 15 min
Cook Time: 1 hr 20 min
Total: 1 hr 35 min
Serving: Serves 6
A delicious Italian-inspired snack or lunch dish made with fresh herbs, crusty bread and sweet tomatoes, all drizzled with honey. Use good quality honey and take the flavors of this sandwich to a whole new level.
Ingredients
2 pints cherry or grape tomatoes, halved lengthwise
1-1/2 tablespoons extra-virgin olive oil
3 tablespoons good quality honey
2 teaspoons thyme leaves
1 teaspoon coarse sea salt
1/8 teaspoon freshly ground pepper
12 baguette slices, cut 1/2 inch thick on the bias
1 cup fresh ricotta (8 ounces)
6 basil leaves, thinly sliced or torn
Directions
Preheat the oven to 300 degrees and line a baking pan with wax or parchment paper.
Place the tomatoes with the olive oil, 2 tablespoons honey, thyme leaves, salt and pepper in a large bowl and toss to coat.
Put the tomatoes onto the baking sheet cut side up, and bake for 1 hour and 20 minutes. Set aside to cool.
Ready the oven broiler.
Place the baguette slices on the baking pan and broil for about 30 seconds until lightly toasted. Spread a thick layer of ricotta over a slice and then top with the tomatoes, some basil and a drizzle of the leftover 1 tablespoon of honey.