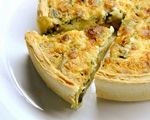 Prep: 8 min
Cook Time: 40 min
Total: 48 min
Serving: 8
A classic egg dish with an elegant Italian flare, the pungent fresh basil permeates throughout and pairs effortlessly with the fresh tomato slices.
Ingredients
Egg Mixture
In a large bowl, whisk together the following:
4 large eggs, lightly beaten
1 cup lowfat plain yogurt
Large handful of basil leaves, rolled and thinly sliced (about 1 cup)
¼ teaspoon salt
¼ teaspoon black pepper
Pinch cayenne or to taste
1 (9 inch) ready-to-bake pie shell (preferably whole wheat)
2 (5 ounces each) ripe tomatoes, sliced ¼ inch thick
Directions
Preheat the oven to 400 degrees F. and adjust oven rack to middle position.
Pour egg mixture into pie shell.
Lay tomato slices onto egg mixture allowing them to sink.
Bake for 40 minutes or until cooked through, puffed and golden.
Remove from oven and let cool slightly and deflate. Cut into wedges and serve warm.