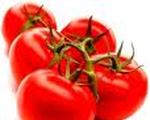 Prep: 4 hr 15 min
Cook Time: 15 min
Total: 4 hr 30 min
Serving: 6
A classic favorite, Tomato Aspic Salad is elegantly garnished with carrot strips, celery curls and a touch of mayonnaise.
Ingredients
2 cups tomato juice
1 slice onion
1 whole clove
bay leaf
1/2 teaspoon salt
2 tablespoons unflavored gelatin
2 tablespoons sugar
1/4 teaspoon paprika
2 tablespoons mild vinegar
mayonnaise, carrot strips and celery curls for garnishing
Directions
Combine first 5 ingredients in saucepan. Cook for 10 minutes and set aside.
Soften gelatin in 1/4 cup cold water in small bowl for 5 minutes. Add softened gelatin, sugar, paprika and vinegar to tomato mixture. Stir until gelatin dissolves and strain.
Rinse salad mold with cold water. Pour in tomato mixture. Chill until firm. Garnish with mayonnaise, carrot strips and celery curls.