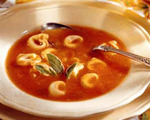 Prep: 10 min
Cook Time: 30 min
Total: 40 min
Serving: 4 Servings
Fresh tomatoes give this delicious soup its intense flavor, while the addition of tortellini provides satisfying texture and heartiness.
Photo originally appeared on www.bhg.com
Ingredients
1 cup chopped onion
1 tablespoon olive oil
2 pounds ripe tomatoes (about 6 medium), peeled, seeded, and cut up
1-1/2 cups reduced-sodium vegetable or chicken broth
1-1/2 cups water
1 (8-ounce) can tomato sauce
1 tablespoon snipped fresh sage or 1 teaspoon dried sage, crushed
1/4 teaspoon salt
1/4 teaspoon pepper
4 ounces packaged dried tortellini
1/4 cup finely shredded Parmesan cheese
Directions
Place the olive oil into a soup pan over medium heat. Once it begins to shimmer, add the onion and sauté for 5 minutes until soft.
Stir in the tomatoes, broth, water, tomato sauce, sage, salt, and pepper and then bring the mixture to a boil. Once boiling, reduce the heat and simmer the mixture for 30 minutes.
Add the tomato sauce to the mixture, stir to combine and then set the soup aside to cool slightly.
In the meantime, cook the tortellini according to package directions and drain. Add the pasta to the soup and stir to combine. Serve garnished with the Parmesan cheese.