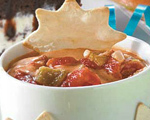 Prep: 5 min
Cook Time: 10 min
Total: 15 min
Serving: 18 Servings
Serve this hot and gooey dip made with tomatoes, cheddar and cream cheese immediately with a bag of tortilla chips and a few bottles of ice-cold Mexican beer garnished with wedges of lime.
Ingredients
1/4 cup chopped onion
2 cloves garlic, minced
2 tablespoons water
1 14-1/2-ounce can stewed tomatoes, drained and cut up
1 4-1/2-ounce can chopped green chile peppers, drained
3/4 teaspoon chili powder
1/4 teaspoon bottled hot pepper sauce
1 cup shredded cheddar cheese (4 ounces)
6 ounces low-fat cream cheese, cubed
Directions
Place the onion, garlic, and water in a saucepan over medium heat and bring to a boil. Cook the mixture for 3 minutes and then stir in the tomatoes, chiles, chili powder, and hot pepper sauce.
Bring the mixture to a simmer and then add the cheddar and cream cheese. Stir thoroughly until the mixture is hot and the cheese has completely melted, and then transfer to a bowl. Serve immediately.