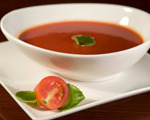 Prep: 10 min
Cook Time: 10 min
Total: 20 min
Serving: 6 Servings
You can find ginger wine at a well-stocked liquor store or online. Its amazing flavor adds wonderful depth to this hot soup recipe.
Ingredients
3 cups chicken broth or beef broth
2 cups peeled plum tomatoes, cubed
2 tablespoons tomato puree
3 large onions, minced
3 tablespoons butter
3 tablespoons flour
3/4 cup ginger wine
2 tablespoons lemon juice
1-1/2 cups cream
salt and fresh pepper to taste
Directions
Place the stock, tomatoes, tomato purée, and onions into a saucepan and bring to a simmer over medium heat.
Cook the mixture for 1 minute and then carefully transfer the hot mixture to a blender and puree until smooth.
Place the butter into a saucepan over medium-high heat. Once melted, add the flour and cook, whisking continuously, for 1 minute. Slowly add the soup mixture, while continuing to whisk, and then pour in the wine and lemon juice. Cook the soup for 5 minutes and then stir in the cream and serve.