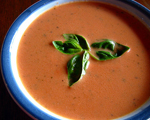 Prep: 25 min
Cook Time: 40 min
Total: 1 hr 5 min
Serving: Serves 4-6
Make this soup when sun-ripened tomatoes are at their midsummer peak. The taste is fresh, the texture is creamy, and when served with fresh crusty bread, this dish becomes the perfect meal.
Ingredients
1 tablespoon olive oil
2 tablespoon butter
1 medium onion, finely chopped
2 pounds ripe tomatoes, roughly chopped
3 cups vegetable stock
1/2 cup dry white wine
2 tablespoons sun-dried tomato paste
2 tablespoons shredded fresh basil
2/3 cup Double Cream
Salt and freshly ground black pepper
Whole Basil leaves, to garnish.
Directions
In a large saucepan pan, heat the oil and butter until melted. Add the onion and cook gently, stirring often, until onion is translucent and soft, about 5 minutes.
Add the chopped tomatoes, garlic, stock, white wine and sun-dried tomato paste. Season with salt and pepper, and bring mixture to a boil.
Once boiling, lower the heat to medium-low, half cover the pan, and simmer for 20 minutes. Stir frequently so tomatoes do not stick to pan.
In a food processor or with a handheld blender, process the soup with the shredded basil, until soup reaches a smooth consistency. Return to saucepan and add double cream. Stir constantly until soup in heated through; do not allow soup to boil. Ladle soup into bowls and garnish with basil leaves.