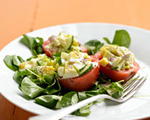 Prep: 20 min
Cook Time: 5 min
Total: 25 min
Serving: 4 Servings
Cut down on obsolete carbs by getting rid of the sliced bread in this tomato and egg salad recipe. Perfect for a light brunch, serve with a glass of Chardonnay.
Ingredients
6 eggs
6 roma tomatoes
1/3 of a seedless cucumber, chopped (about 3/4 cup)
1/4 of a red onion, chopped (about 1/4 cup)
1/3 cup mayonnaise
1 tablespoon Dijon-style mustard
1 bunch watercress, trimmed
1/2 teaspoon each salt and freshly ground black pepper
Directions
Place the eggs in a large saucepan, cover with water and bring to a rolling boil. After about 1 minute, remove the pan from the heat, cover and set aside for 10 minutes.
In the meantime, cut the tomatoes in half, lengthwise.
Chop the eggs and place into a bowl with the cucumber, onion, mayonnaise, mustard, salt and pepper. Mix well to combine.
Place the watercress onto 4 plates, add 3 tomato halves to each plate and then top each halve with the egg salad. Serve immediately.