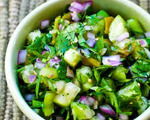 Prep: 1 hr 40 min
Cook Time: –
Total: 1 hr 40 min
Serving: Makes about 4 cups
The flavor of this tomatillo salsa is even better the next day after the flavors are allowed to blend and intermingle overnight.
Ingredients
3 cups finely diced tomatillos (about 10-12 tomatillos)
8 roasted green chiles, diced
1 tablespoon minced garlic
2/3 cup finely diced red onion
Sea salt and freshly ground black pepper
Hot Sauce, to taste
1/2 cup fresh lime juice
1 cup finely chopped fresh cilantro
Directions
Place the tomatillos, chiles, garlic, onion and a few pinches of salt and pepper into a bowl and toss the mixture to combine. Set the bowl aside for 1 hour at room temperature.
Whisk together the lime juice and the hot sauce and then add it to the tomatillo mixture along with the cilantro. Toss once again to combine and then cover and place in the refrigerator for at least 30 minutes prior to serving.