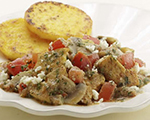 Prep: 15 min
Cook Time: 14 min
Total: 29 min
Serving: 4 Servings
Vegetarian meals have never tasted so good; enjoy sautéed tofu with a delicious tomato and mushroom sauce.
Ingredients
14 ounces extra-firm tofu, preferably water-packed
2 teaspoons extra-virgin olive oil
2 medium tomatoes, coarsely chopped (about 1-1/2 cup)
1-1/2 cups sliced mushrooms (4 ounces)
2 tablespoons prepared pesto
2 tablespoons crumbled feta cheese
Directions
Rinse off the tofu, pat dry and then slice, crosswise, into slices. Crumble each slice into smaller pieces and then place in a large sauté pan, in a single layer, over high heat.
Cook the tofu for 4 minutes and then stir and cook for 7 additional minutes until all sides have browned.
Stir in the tomatoes and the mushrooms and cook the mixture for 3 minutes. Take the pan off the heat and add the pesto and the feta. Stir until combined and serve immediately.