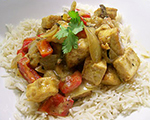 Prep: 15 min
Cook Time: 15 min
Total: 30 min
Serving: 4 Servings
Enjoy this classic Thai curry dish with tofu. Look for reduced-fat coconut milk for a lighter sauce.
Ingredients
1 cup reduced-fat coconut milk
2 tablespoons chopped fresh cilantro
1 teaspoon red curry paste
1/2 teaspoon brown sugar
1/2 teaspoon salt, or to taste
14 ounces extra-firm tofu, drained, dried and crumbled
2 teaspoons extra-virgin olive oil
4 cups baby spinach (6 ounces)
1 medium red bell pepper, sliced (1-1/2 cups)
Directions
Place the coconut milk, cilantro, curry paste, brown sugar and salt into a bowl, and whisk to combine.
Place the oil in a large sauté pan and heat over high. Place the tofu in the pan and cook, without stirring, for 5 minutes, and then stir and cook for an additional 6 minutes.
Place the spinach, bell pepper and curry into the pan and cook for 2 additional minutes. Serve immediately.