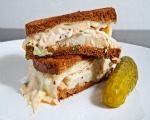 Prep: 10 min
Cook Time: 10 min
Total: 20 min
Serving: Serves 2 people
Looking for vegetarian sandwich with some tradition? Try the Tofu Reuben Sandwich. Similar to the traditional reuben, this sandwich replaces the meat with sliced tofu.
Ingredients
1, 1-pound container of firm tofu, dried (cut 4 thin slices)
4 slices rye bread
2 tablespoons butter, softened
1/4 cup prepared Thousand Island dressing
4 slices Swiss cheese
1/2 cup sauerkraut, drained well
Salt and pepper to taste
Cooking spray
Directions
Using a medium-sized non-stick pan, saute the tofu, sprinkling with salt and pepper to taste, just until browned and set aside. Spread butter onto one side of each slice of bread.
To put the sandwiches together start with the two slices of bread, buttered side down. Layer 1 tablespoon dressing, 1 slice of Swiss cheese, 2 slices of tofu, some sauerkraut and one more slice of Swiss cheese. On the other 2 slices of bread, spread some of the dressing onto each and top the other half of the sandwiches. Butter the bread on top.
Spray a non-stick pan with cooking spray. Over medium heat, add the sandwiches to the pan and cook until each side of the sandwiches are browned and the cheese becomes soft and melted. Serve warm.