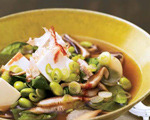 Prep: 10 min
Cook Time: 15 min
Total: 25 min
Serving: 4 Servings
Casseroles are usually synonymous with starchy pasta, rice or potato dishes laden with creamy sauces. As an alternative, try this light and modern variation made with tofu. Its broth-like consistency is absolutely delicious.
Ingredients
2 teaspoons instant dashi powder
4 cups water
2 teaspoons finely grated fresh ginger
1/4 pound shiitake mushrooms, stemmed and caps thinly sliced
1/2 cup shelled edamame, 3 ounces
1 14-ounce package firm silken tofu, cut into 1-inch cubes
8 water chestnuts, thinly sliced
1 5-ounce bag baby spinach
2 tablespoons low-sodium soy sauce
2 tablespoons mirin
1 teaspoon fresh lemon juice
1 scallion, thinly sliced
Directions
Place the dashi and the water into a large saucepan over medium heat. Bring the mixture to a simmer and then add the ginger, sliced shiitake, edamame, tofu and water chestnuts.
Simmer the mixture for 6 minutes and then stir in the spinach, soy sauce, mirin and lemon juice. Cook the mixture until the spinach is wilted and then serve immediately garnished with the sliced scallion.