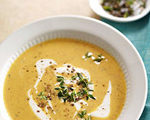 Prep: 10 min
Cook Time: 25 min
Total: 35 min
Serving: 6 Servings
This tofu-based soup made with carrots is both creamy and satisfying. Using non-fat evaporated milk instead of heavy cream reduces the amount of total fat and calories.
Ingredients
1 8-ounces package sliced button mushrooms (2-1/2 cups)
2 stalks celery, sliced
1 medium onion, sliced
2 cloves garlic, minced
2 tablespoons vegetable oil
4 cups sliced carrots
1 12.3-ounce package silken-style firm tofu (fresh bean curd), cut up
3 14-ounce cans vegetable broth
1 5-ounce can low-fat or non-fat evaporated milk
1 teaspoon chopped fresh thyme
Sour cream to garnish
Fresh thyme to garnish
Directions
Place a Dutch oven over medium heat and add the olive oil.
Once the oil begins to shimmer, add the mushrooms, celery, onion, and garlic and cook for 5 minutes.
Stir in the carrots and the broth and bring the mixture to a boil.
Once boiling, cover the pan and simmer for 20 minutes.
Remove the pan from the heat and add the tofu and the evaporated milk. With a stick blender, purée the soup until smooth.
Ladle the soup into bowls and garnish with a swirl of sour cream and a sprinkle of fresh thyme.