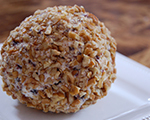 Prep: 3 hr 30 min
Cook Time: –
Total: 3 hr 30 min
Serving: 20 servings
This cheese ball is made with four different types of cheeses and then rolled in toasted walnuts. Serve with crackers and apple slices.
Ingredients
4 ounces (1 cup) cheddar cheese, shredded
1 (8-ounce) container sharp Cheddar cold pack cheese
1 (8-ounce) package cream cheese, softened
1 (4-ounce) package blue cheese, crumbled
3/4 teaspoon dried dill weed
1/2 teaspoon dried basil leaves
1/2 teaspoon celery salt
1/2 teaspoon Italian seasoning
2 teaspoons finely chopped fresh garlic
1 tablespoon soy sauce
1/2 cup chopped walnuts, toasted
1/4 cup chopped fresh parsley
Directions
Place all of the ingredients, except for the walnuts and parsley, into a large bowl.
Using a blender, blend the ingredients together on low making sure to scrape the sides of the bowl.
Cover the bowl and transfer to the refrigerator. Chill for at least 3 hour until firm.
Place the walnuts and the parsley in a small bowl. Shape the cheese into a ball and then roll in the walnut mixture to coat on all sides.