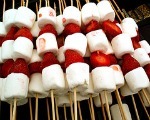 Prep: 10 min
Cook Time: 10 min
Total: 20 min
Serving: Serves 4 people
Really, when was the last time you grilled dessert? Toasted Strawberry & Marshmallow Skewers are so delicious, unexpected and fun! Try them at your next party or for your family.
Ingredients
16 large marshmallows, chilled
16 large strawberries
8 short metal skewers (or bamboo, soaked in water for 30 minutes first)
Topping of your choice for drizzling (chocolate sauce, caramel sauce)
Non-stick cooking spray
Directions
Before heating the barbeque, spray the grate with the non-stick cooking spray. Heat grill to high.
Use two marshmallows and two strawberries, alternating, and thread onto one skewer. Grill each side for about 20 seconds. The marshmallows shouldn't melt, but should show grill marks.
Once heated through, transfer to a serving platter. Drizzle with your choice of topping (optional).