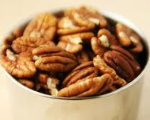 Prep: 10 min
Cook Time: 25 min
Total: 35 min
Serving: 2 cups
Toasted savories keep for 1 week, or can be frozen (for no more than 2 weeks).
Ingredients
2 egg whites
2 cups unsalted pecans
1 teaspoon salt
1 teaspoon dry mustard
1 teaspoon garlic powder
Directions
Preheat oven to 250 degrees Fahrenheit. Line a cookie sheet with foil and grease.
Beat the egg whites until they are bubbly. Add in the pecans, stirring to coat. Using a slotted spoon, lift and drain the nuts and spread onto the cookie sheet.
Combine together the salt, dry mustard and garlic powder. Use a shaker to sprinkle over nuts.
Bake for 25 minutes, allow to cool before breaking nuts apart.