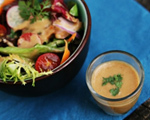 Prep: 10 min
Cook Time: 15 min
Total: 25 min
Serving: 6 Servings
Drizzle this hardy, nutty and buttery toasted peanut vinaigrette over your favorite green salad or stir fry, or use as a marinade for chicken.
Ingredients
1 cup raw peanuts
1 cup grapeseed oil
2 teaspoons smoked paprika
Sea salt, to taste
6 tablespoons apple cider vinegar
2 cloves garlic, sprinkled with salt then smashed and minced into a paste
2 shallots, minced
Freshly ground black pepper, to taste
Directions
Preheat your oven to 325 degrees.
Place the peanuts, 2 tablespoons of oil, paprika and a few pinches of sea salt onto a baking sheet and toss to coat. Place the peanut mixture into the oven and bake for 15 minutes, tossing occasionally. Remove the peanuts from the oven and set aside to cool.
Coarsely crush the cooled peanuts and then place into a bowl with the remaining grapeseed oil, vinegar, garlic, shallots and a few pinches of salt and pepper; whisk together until thoroughly blended.